Since Sanctuary House is adjacent to Negombo Lagoon and Muthurajawela, and has an abundance of water, it is only logical that we develop our waterways as well as Lagoon frontage.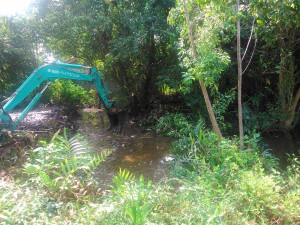 In January we started dredging our waterways and have currently created 250 of waterways which are at least 6 feet wide and 3-5 feet in depth. Ultimately there will be more than 500 feet of interconnected canals leading to our pond and to the Lagoon.
This will create a unique space for recreation, adventure and birdwatching as well as a thriving eco-system. Already the increase in fish and bird life is noticeable.